The Final Season of LOST has begun! And what can I say?  I was just as LOST as ever after that first hour…
  But we wouldn't have it ANY other way, RIGHT?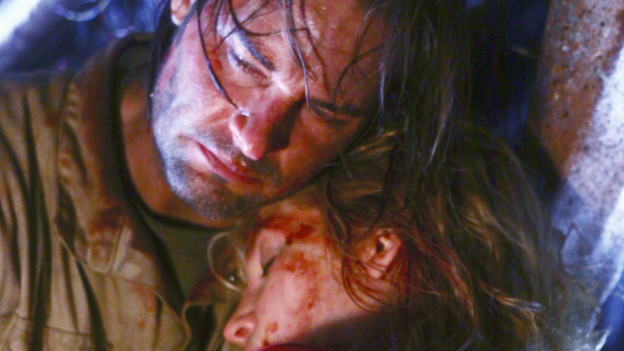 JULIET & SAWYER: How sad was I that Juliet died!  *SOB*  At LEAST they allowed us to see her survive the "blast," have one last moment with her love, Sawyer…then to have her die in his arms.  *SOB SOB*  I'm glad Sawyer got to see and talk to Juliet one last time!
The fact that Juliet was RIGHT NEXT to the bomb when she whacked it, but yet didn't die from impact…HMM…kinda makes you think that the bomb DIDN'T really go off.  I mean, how could it but yet she not die immediately?!
What was Juliet talking about tho when he found her?  "Let's get coffee…we'll go dutch."  HUH?
"I have to tell you something important…"  WHAT?!  WHAT DID YOU WANT TO TELL SAWYER?!  Argh!
Smart of Sawyer to ask Miles to "speak" to Juliet to find out what she wanted to tell him… "IT WORKED."  What worked?  The bomb?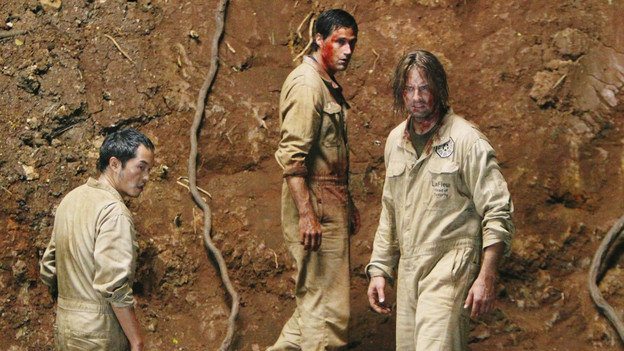 So they all survived the "blast" or whatever happened when Juliet set off that bomb…but yet "nothing" happened!  They're all STILL on the island, basically in the same place where they left off…
BUT YET…
Can you say deja vu?  We're reliving the pilot episode all over again!
EXCEPT THAT…
This time the plane actually LANDS at LAX.  HUH?!  These 2 storylines are going on at the same time?  Are we talking parallel universe here?
Obviously these 2 storylines/sequences aren't connected to each other…at least not yet…because the people in the "present" time, at the bomb site, obviously don't know anything about the plane actually landing.  Otherwise they wouldn't be at the bomb site to begin with!  Man, it's just getting more and more confusing…
So now we're going to get to see what happens (or what would've happened) HAD they actually LANDED in Los Angeles the way they were supposed to…
BTW, how cool was it that they actually taped the airport scene AT our AIRPORT!  So used to seeing the Convention Center as the backdrop of the Australia airport…but this one had to be LAX, so they needed a new atmosphere.  Wonder how they taped at the airport…did they actually have to shut down part of the place to film?  Can't believe they could STOP operations at an international airport like that…
It was cool that we go to see people like Boone and Charlie again…Altho Ian Somerhalder (Boone) really doesn't need this gig.  He's now one of the hot vampires on The Vampire Diaries.
Jacob tells Hurley where they need to take Sayid in order to save his life.
Jacob says that Jin knows where the temple is.  Did they show us that part in an earlier episode/season?  I don't recall…
The whole smoke monster thing totally confused me.  So JOHN is the smoke monster?!
Umm…that temple that they brought Sayid to on the island…can you say Indiana Jones?  It's amazing how many places on the island there are that they never showed us before…and that the survivors didn't know about…
Hey!  It's the guy from The Last Samurai!  I loved him in that movie!  So cool that now he's on LOST!
It's nice to hear Korean all the time on this show, but it's even cooler to have Japanese spoken on it too!
I'm so confused about the whole Locke thing…so it's not REALLY Locke…it's "someone else" but using Locke's physical body?
This "Locke" is gosh darn MEAN and BAD!  Only way to describe him…maybe he's the devil or something?  Seems almost like that…
"Locke" obviously made himself known to Richard…and Richard recognized who "Locke" really is.  Now WE want to know!  WHO IS THS GUY?!  And why did he beat up Richard and carry him away with him?
And Sayid coming back from the dead…that one wasn't too shocking.  Kinda figured that would happen…
But what does it mean?  And HOW did it happen?  What IS this temple?
Too many questions…as is for every LOST episode…but I do have to say that I'm qute intrigued and was pretty happy with these first couple of episodes.  I feel this season is starting off better than it has in the last few years…
Would love to hear your theories….