Wow, what an episode!  So much happening!  So good!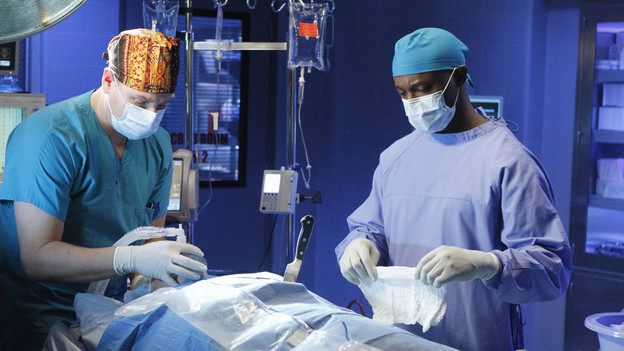 PETE & AMELIA:  It's Clark Kent's mom from Smallville!  Yay for Annette O'Toole!   I couldn't believe the girl accidentally smothered her baby while breastfeeding!  Wow.  That really brings her situation/disability into perspective.  It's amazing to me how Pete, a lot of times, really does feel for the patient.  I know why he lied to the baby's grandmother, but…I don't know…that was pretty bad.  Amelia was much more realistic, although calling up the grandmother without discussing it with the girl was a bit much as well.  Glad everything worked out in the end!
CHARLOTTE:  Talk about an ETHICAL PREDICAMENT!  To have the guy who raped you come into your hospital as a patient…and for it to be life/death like that!  I COULDN'T STAND looking at Lee.  He still disgusts me.  And seeing ANOTHER women all beaten like that just brought back Charlotte's situation all over again.  But when they showed Nancy sitting next to Lee in the hospital room…even after everything he did to her…that was a killer.  KaDee Strickland/Charlotte once again…GREAT!  I don't know HOW she was able to even be NEAR Lee, let alone go right up to him face to face like that.  Just goes to show how truly TOUGH and STRONG Charlotte really is!  That was awesome!  FACE YOUR FEARS!  And the scene with Charlotte and Nancy was very powerful as well.  "I love him."  REALLY?!  How can that be?!  And I'm sure it took almost everything in Charlotte to tell Sam to do everything he could to SAVE Lee.  Ugh.  Oh, and once again…I love Sheldon.  He's so sweet when it comes to Charlotte…so supportive!  Cooper was being a very protective and loyal fiance, but…I can't BELIEVE he asked Sam to let Lee die.  I mean…obviously I know WHY he said it, but…EASY FOR COOPER TO SAY!  He's not the one who's going to have to deal with "letting a man die" like that!  Come on man!
ADDISON/BIZZY:  Wow.  I did NOT expect that ending.  After Susan died, it was SO HARD to watch those scenes with Bizzy & Addison…the way Bizzy treated/talked to Addison.  After EVERYTHING Addison did to try to SAVE Susan.  Man.  Once again, TOUGH LOVE doesn't even cover it.  But then AT LEAST Bizzy & Susan had their ONE mother/daughter moment.  That hug was a HUGE step!  And now we know WHY it happened.  I KNEW Bizzy "wouldn't be there" when Addison came back to her room, but…did NOT expect it to be like that.  Totally thought Bizzy was going to be gone because she left town earlier…not because she KILLED HERSELF!  That was a bit shocking…and SO SAD.
Man, these last few episodes of this show have been quite heavy…which is great…makes me love the show even more.  And next week's looks to be no exception.  One tragedy/obstacle to overcome after another.  The aftermath of Bizzy's suicide.  Phew.  Better get prepared for another heavy duty episode…